Once upon a time, there was a little Princess named Audrey who was very very bored....
She decided to take a walk in the woods and that was where she stumbled upon a frog . She spoke to it and touched it, but the frog stayed very still. Could this be a magical frog? She pondered....
But her walk made her too sleepy to think and so she took a nap....
When she awoke, she had a brilliant idea....Maybe if she kissed the frog, it would turn into a prince!....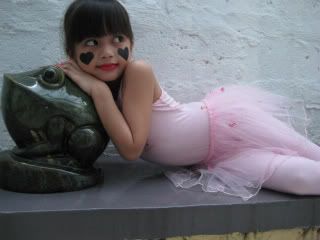 After kissing the frog she closed her eyes and waited in excitment....but the frog stayed still.
Princess Audrey started to ponder again....
But it was already getting very late and she promised to go with her grandmother to Chanel to pick out new bags and shoes for the ball.....She will just have to go back tomorrow....The next day, after finishing her chores, she ran Back to the forest to see if there were new changes in the frog. To her disappointment, she found it just the same way as she had left it....
And she grew impatient and walked back to the castle. She was very sad....
Princess Audrey had a sleepless night and tossed and turned in bed. She kept thinking about the frog....then she remembered what her grandfather, the king (who was full of wisdom) had once told her: "Audrey, you must believe. Believe in the magic." and that gave Audrey hope....So she decided to go back one last time to the forest to see the frog....
The next day as soon as she woke up, she ran straight to the forest. When she got there, something magical had happened!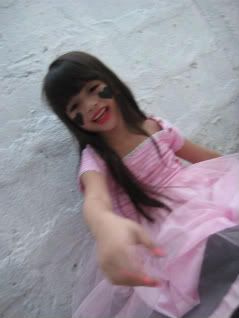 The frog opened its mouth and said: "Audrey, patience is a virtue. I'm glad you did not give up; and as a reward, I will give you a little frog to remind you to always believe in the magic."
She thanked her grandfather for the wise words and from that day on, she has always believed in the magic.
And she lived happily ever after!